Review, The Longest Day: cast of thousands Committee of directors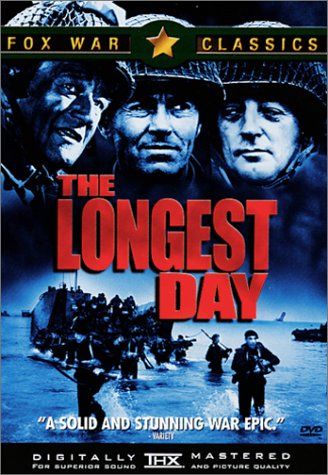 IMBD page
Cast
This is an excellent film. It counts as American it's Ameircan produced even though it had a million directors.
It commemorates an event that I think stands out as one of the seminal events of human history. I'm an anti-war guy for the most part. I protested Vietnam when I was a little kid. I protested the contra war and; the gulf war and Irak. But WWII I don't think I would have protested. I would have supported the war effort totally. Hitler was evil and had to be stopped. The militaristic forces that controlled Japan at the time were also Hitlerian and evil.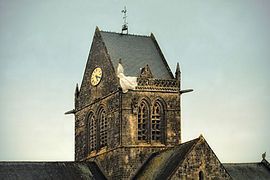 The chruch at Sainte-Mère-Église
where
Red Buttons hangs from the tower.
The Longest Day is fine film to commentate the event. It has so many moments it would be hard to Isolate one. The Richard Burton scene is one of my favorites. Burton is a downed flyer who has been stitched up by an American medic who left him promising to come back. Another American, lost and separated from his unit, finds him. They talk, we find out he's been stiched up with safety pins. when the drugs wear off he's in trouble. Red Buttons, paratrooper, hanging from the chruch steeple at Sainte-Mère-Église watching his guys get slaughtered as he just hangs there, then being defened by the bells. The Little clicker devise to identity each other in the dark. Then they mistake ducks and gese clicking then the German breach loading his rifle makes that clicking noise.The Nunjs who walk deterred and openly right into the middle of cross fire and don't flentch whild on both sides go "get backi!"
My favorite scene has to be the peasant who lives at the beach. Every morning the German sergeant rides a donkey around the area and the french farmer curses at him. He's just longing for the day when the allies comes. One morning he looks out his window toward the sea and there is a load of ships sailing toward land.He's ecstatic. suddenly his back yard blows up. Shells are exploding all around him. His wife is shouting "we will be killed." He jumping around going "who cares. they've come! Vive la France!" The Sergent is knocked off his donkey by the blast and the peasant is still jumping around celebrating. Intercepted with this is the German officer who goes to the bunker to check. It's routine does it every morning. They never come. Suddenly it looks some dark objects are emerging from the fog. He can't believe it, they come into focus, they are ships, then they start shooting at him.
It's a brilliant movie and commentates something that so profound historically I can't really talk about it.
Even John Wayne's cliched character doesn't gum it up. In fact Wayne is prefect, WWII battles were his setting. Everyone who was anyone in that era (1962) was in it. It's really one of my favorite films.